WELCOME TO Captain Cartridge SUNSHINE COAST Office: 5493 2000
Ink Refill Transfusion Vehicles : 0488 88 INKS (4657)
Captain Cartridge is proud to be sponsoring a vehicle in the Sunshine Coast 4xFUN event to raise money for the charity Sunnykids. We are seeking donations to help our team gain points in the event. All donations help this worthwhile charity. To make a donation Please send us an email. First 3 businesses to offer $100.00 or more will be able to put signage on our vehicle. This charity often attracts local media attention when it holds events.
**Please note: As of Jan 2015 we will have new contact details. Phone will be 0488 88 INKS (4657), and our alternate website will be www.88inks.com.au. We believe they will be easier to remember. **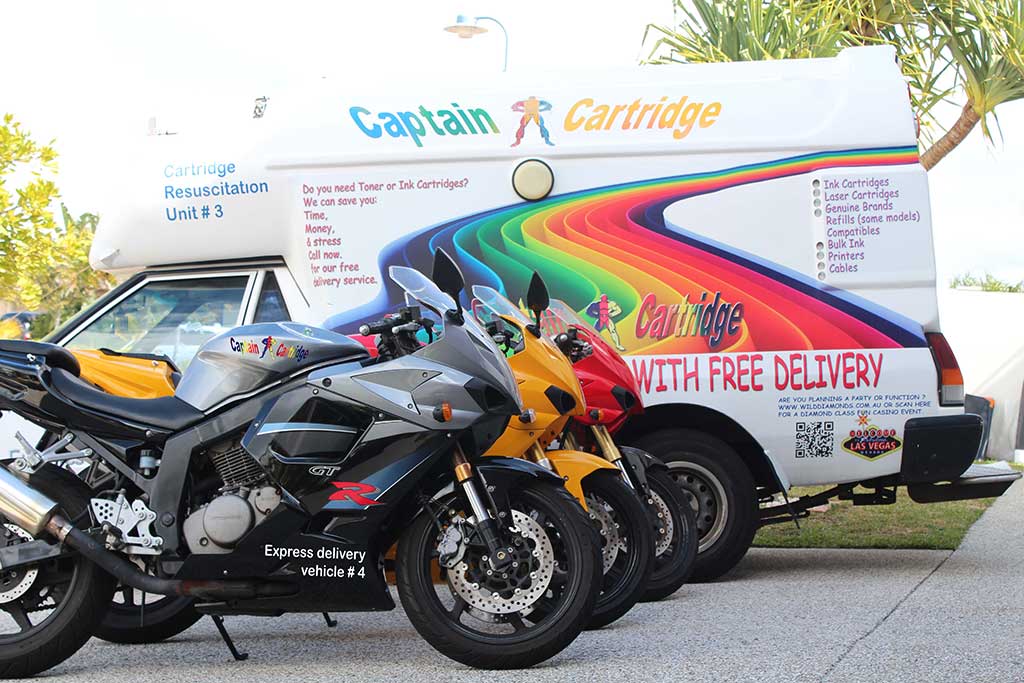 We now offer the fastest delivery on the Sunshine Coast for your ink cartridges or toner cartridges.
MOST POPULAR***If you have a Brother laser printer that uses the TN 2030 toners then you can get cartridges from us that have 2.6 times more ink for the same price, $66.00 DELIVERED.
Captain Cartridge offers a mobile ink refill service (for some cartridges) and free delivery of new genuine or compatible ink cartridges & toner cartridges. All products delivered free to the Sunshine Coast. Other products available are refill kits, fax rolls, photocopier toners, USB cables, HDMI cables and specialty paper for all major brands including Canon, Brother, HP, Epson, Lexmark amongst others.
Personalised delivery or onsite service operates from Pelican Waters in the South to Twin Waters in the North and all areas in between out to the Bruce Highway. Other areas may require a set minimum order, or delivery by courier.
Why go to a shop when we bring the shop to you, that's right, we park our fully equipped workshop outside your home or business and fill on the spot. So you don't have to leave your lounge room or swimming pool.
As a business owner, you will be able to keep your staff working on more productive tasks, rather than send them on a trip to drop off cartridges then wait half an hour to pick them up, only to find when you get back that there is a problem and you then have to send them back again. In this day and age where time is money, you have just wasted a lot of both!!
We will save you money as we have the most reliable ink and toner cartridges on the Sunshine Coast, and the highest level of service.
All products are fully guaranteed, so try us now!
You have nothing to lose and everything to gain.
Check our prices on the above left links or send us an e-mail.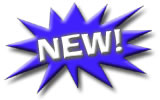 NEW RELEASES AND COMING SSOON.
Brother TN 2350's are now here in compatibles. Order now $66.00 for 2600 pgs.
We now stock HDMI cables inc free delivery.
1.8M $16.50, 5.0M $33.00, 10M $55.00 all prices are inc GST.
Now in stock
Epson 676XL compatibles are now in stock $22.00 each C, M, Y & $27.50 for Bk inc delivery.
Compatible Epson 200XL Bk, C, M, Y: $15.00 each inc delivery.
Compatible Brother TN 348 high yield (6000 page) toner cartridges for HL 4150, MFC 9460
Compatibles and fills now available for the Brother LC 139 Bk, LC 135 C, M, Y, LC 13's (includes new reset chips)
Compatibles cartridges are now in stock for the Canon PG 650 BK XL and Canon CL 651 C, M, Y, Bk, Gr. They are all $18.00 each including GST and delivery.
Samsung MLT 508 compatibles are now available and on board for $99.00 including GST and delivery, thats a saving of around $65.00 off original.
Samsung MLT 101, 105, 104 & 108 in stock as well as colour toners for 409 & 508 series.
New cartridges are constantly arriving, please keep an eye out on this page as you may be paying too much if you are buying original brand cartridges.
A Word of Warning.
If you have been contacted by one of these interstate toner companies by phone, then be very aware, that they may be charging you double our price for an inferior product, and they will bill you when you don't need them, and worst of all they are very hard to deal with if you have a problem.
We can get the cheap stuff, but we would rather preserve our reputation, thats why we have been around since 1999 and have seen many of our competitors fall by the wayside.
So, by all means try the cheap rubbish, but when you find the quality is inferior or you have wrecked your machine, we are sure you will then call us.
Where do we go?
Alexandra Headland, Alex Beach, Aroona, Battery Hill, Bellvista, Bells Reach, Birtinya, Bokarina, Brightwater, Buddina, Buderim, Caloundra, Caloundra West, Cartridge World, Cotton Tree, Creekside, Currimundi, Dicky Beach, Glenfields, Golden Beach, House of ink, Ink brothers, Little Mountain, Kawana Island, Kawana Waters, Kawana Forest, Kings Beach, Kuluin, Kunda Park, Maroochydore, Maroochy Waters, Moffatt Beach, Mooloolaba, Mountain Creek, Parrearra, Pelican Waters, Point Cartwright, Refills Now, Twin Waters, Warana.
All other areas in Australia still recieve free delivery for toners or 4 compatible ink cartridges.
Captain Cartridge is proud to support these local businesses.
If you are looking to entertain your guests at your next corporate event, staff , birthday party or wedding, check out www.wilddiamonds.com.au
Do you want to get fit and increase your lifespan for around the price of a cup of coffee a day. Have a look at www.mitch.max4u.com
Need your Garage Door fixed? Support this local business. www.dinkidigaragedoors.com.au
Need ebooks or anything for your kindle? Check out www.majorebookstore.com
©Copyright Captn Cartridge 2000
Page updated January 2015